Bridge structures and frame culverts
Frame culvert DZR 2
07 Čerčany, 41 Litice
Technical conditions of delivery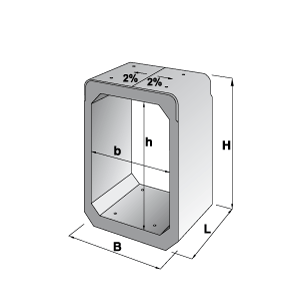 Trademark
Dimensions (cm)
Concrete Class
Volume (m3)
Weight (kg)
L
B
H
b
h
IZM 20/10
148
240
313
200
260
C 30/37-XF4
3,4000
8500
Usage:
The elements DZR 2 serve for forming of culverts for water diversion or single and doubled low frequented underpasses with upper bed height min. 1.0 m up to 7.0 m.
They are designed for moving load given by the heavy load train ČSD T, the standard load of which is given by a set of axle forces 4 x 312.5 kN and by the uniform load 100 kNm-1.
The front faces of the frames are designed as plane.